This article first appeared in Internet Underground Volume 1, Issue 13 (December 1996): page 67.
Copyright © 1996 Ziff-Davis Publishing Company, reproduced with kind permission.
The
World of
Sinistral
Subterfuge
by   M.K. Holder
    LEFT-HANDEDNESS:  Taboo? subterranean? "Right-ie-o", you might say; but what if you had the following experiences: "I have ... really grim memories of my early school days.. of having my left hand tied behind my back and not being allowed to eat lunch..."  "When I was young, grandma used to beat me blue black for using my left hand -- she even tied my left hand up."  "If ... [my fourth grade teacher] caught me using my left hand, I was hit in the head with a dictionary.... she believed left-handers were connected with Satan." These are comments [emphases mine] left-handers have posted to a page called Left-Handers in Society.

    "So three people got a bad rap -- so what?" Here's what: either you, or someone you have relations with (relative, co-worker, beloved), is left-handed living in a right-biased society. At best, this situation causes left-handers mild annoyance; at worst, social discrimination and right-biases inherent in daily infrastructure are sufficient to cause lifelong problems and/or serious physical injury. Tools (musical instruments, sports equipment, household objects, business and manufacturing equipment) are intrinsically right-biased: computer keyboards, scissors, circular saws, corkscrews, baseball gloves, golf clubs, guitars, etc. Even language is laden with ill-feeling (e.g., the Latin-derived "sinister", or the French "gauche" meaning "clumsy, awkward, tactless").

    "Deal with it" you say? Some folks have problems they can't overcome alone, like the woman who wrote "My husband has a problem at his job. He is being discriminated [against and written up because]... he can't keep up on a ...[manufacturing] machine.... He is getting very depressed. He has been trying to explain that some parts are set up for right-handed people, but they don't seem to understand. I'm getting very concerned. I don't want him to lose his job."
Nor do I.

    Enter Emerging Technology. With relatively little effort, accurate information and simple coping strategies, life can be made easier and safer for all those left-handers we know and love. Take, for instance, school desks; it's darned difficult for a left-hander to work on a right-sided deskchair. This may seem trivial but anything that interferes with a student's ability to learn and perform warrants serious attention. You don't have to have money to buy new desks to eliminate this ubiquitous problem, you just need well-informed and committed students, parents, educators and administrators armed with coping strategies.

    The Internet is the perfect medium for groups marginalized by society to publish concerns, make contact with others, engage in productive dialogue (even anonymously), and achieve successful outcomes via information-based communication. I'm an academic, a  biological anthropologist; among other things, I research primate handedness. I went on-line to (1) "give back" something to the public, (2) de-bunk common myths and misconceptions about handedness and brain lateralization, (3) conduct on-line research, and (4) advocate W3 communication with, and inclusion of, non-English-speakers and peoples whose cultures fall outside our Western/Euro/American focus.

    Towards these ends, I designed a suite of linked pages with:  (a) an entertainment format to suck people into the site ("Famous Left-Handers"), (b) a resource format to provide information useful to the public ("Left-Handers in Society"), (c) a collaborative format, via use of comment forms ("Left-Handers in Society" and "Famous Left-Handers"), (d) non-English versions ("Gauchers Célèbres" and "Zurdos Famosos"), (e) simple scientific information and references ("What does Handedness have to do with Brain Lateralization?" and other pages), and (f) a fill-form format enabling visitors to participate in on-going scientific research ("Handedness Questionnaire").

    The medium works:  Visitors from 86 countries/client domains and 817 different US educational institutions have hit these sites a million times. Comments from the two collaboratively-built pages originate from 20 countries. Off-line, information I've posted has escaped the ether and invaded established media (i.e. educational CD-ROMs, print books, newspapers, magazines, radio).

    But the ultimate indicator of success is the way the Web reaches the unreachable. Consider: "I always thought that I was alone in that I could not tell my left from my right, until I read a comment from someone else with the same problem.... I'm 38 years old and until now I thought I was alone. No more!!" And "I am 16 and sure wish I had found this place a long, long time ago..." This place called the Internet may be virtual, but it can, does, and will, exert a powerful influence on real lives -- underground or mainstream.

M.K.Holder  is an Affiliated Scientist with the Center for the Integrative Study of Animal Behavior at Indiana University. She has researched human handedness for a number of years, and also studies monkeys and apes in East Africa. Holder implores readers not to send e-mail asking about handedness; it's far too complicated to explain over e-mail! She is occasionally overheard shouting "Learn to use the LIBRARY!" and worries that the tasty tidbits of "information" found on-line are neither as reliable nor as comprehensive as students, parents and teachers might hope.
. . . . . . . . . . . . . . . . . . . . . . . . . . .
Copyright © 1996 Ziff-Davis Publishing Company, and may not be reproduced without prior written permission from: Ziff-Davis Publishing Co., 1920 Highland Avenue, Suite 222, Lombard, IL 60148 USA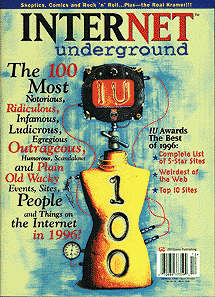 (Special thanks to Associate Editor Sarah K. Ellerman for letting me muck around in the medium of popular culture)
_________________________________________________________
menu |  Handedness Questionnaire | Brain Lateralization |
        African Primates at Home | East African Sites   |
        Left-Handers in Society  | Famous Left-Handers  |
        uselessness & relevance in emergent technology  |
        MK's InfoSafari Shamba   | InfoBahn Off-Ramps   |  kudos

_________________________________________________________

contact information
http://www.indiana.edu/403.html
.

.

.

.

.

.

.

.
«Just as the strength of the Internet is chaos, so the strength of our liberty depends upon the chaos and cacophony of the unfettered speech the First Amendment protects.»


-- Federal Judge Stewart Dalzell



( g o,  S t e w,  g o !)